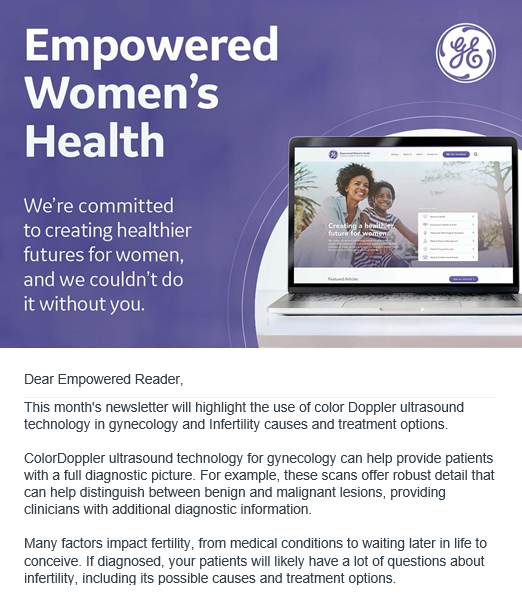 Oct 11. 2022
Women's Health Newsletter (Oct 2022)
Article Highlights
Color Doppler Ultrasound for Gynecology
 – Enhanced sensitivity of power Doppler may help identify the detail between benign and malignant lesions. This, combined with 3D ultrasound, can help detect malignant ovarian lesions early and make ovarian cancer easier to spot.
– Color Doppler identifies vesicovaginal fistulas quickly and accurately – and it does so safely and less invasively than other diagnostic options. Find out how ultrasound can help point out this diagnosis so treatment can start sooner.
– Color Doppler complements grayscale images to visualize blood flow when evaluating adnexal masses, helping to identify ovarian tumors. Learn how this feature increases diagnostic accuracy.
– Distinguishing between ovarian cysts and ovarian cancer can be difficult to understand for doctors and patients alike. Ultrasound with power Doppler is part of a comprehensive evaluation to determine the difference – and it can help educate your patients as well.
Infertility
– The causes of infertility are not always clear. Your patients may look to you for answers about how their lifestyle, anatomy, genetics, and other considerations play a role in this diagnosis. Learn how to answer their questions.
– Ovarian reserve testing may become more common – and more essential – as patients increasingly wait to get pregnant until later in life. Learn how to explain the value of this testing to your patients and how it might help them make fertility decisions.
– Adenomyosis can affect fertility. Learn more about the connection between this condition and fertility as well as how to spot it on ultrasound.
– Ultrasound-guided oocyte retrieval has become less painful for patients with the help of advances in technology. Learn more about how a new needle design has improved this procedure even more.
Case Studies
– Automated follicular assessment helps identify optimal timing during IVF stimulation. Find out how one doctor uses automated follicular measurements for enhanced accuracy.
– Ultrasound helps evaluate tubal patency with a method that is more comfortable for patients than traditional hysterosalpingogram and laparoscopy. Hear from one doctor about how he uses ultrasound to evaluate tubal patency.
– Diagnosing polycystic ovarian syndrome is a subject still rife with debate, but exceptional image resolution and automated follicle counts with a 3D ultrasound can increase confidence in a diagnosis. Learn how one doctor uses 3D ultrasound as part of the diagnostic process.